The Saastal is an impressive high-altitude cross valley that lies between the Rhone and Valais in Switzerland. In this area you can find the highest mountains of the Alps and beautiful glaciers.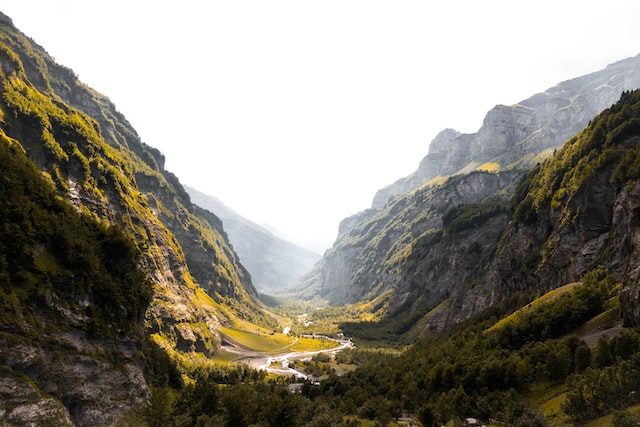 The area of the Saastal is very special and you easily feel small in the huge mountain world. The huge mountains that surround the area are more than 4,000 meters high and together form an extraordinary view. Among other things, you can admire one of the following mountains:
Nadelhorn

Alphubel

Dom

Täschhorn

Ulrichshorn

Weissmies

The fine climate, eternal snow and good ice conditions make for enchanting moments in this beautiful Swiss area.
The four villages in Saastal
Originally, Saas was one village, but four villages have emerged from this: Saas-Fee, Saas-Grund, Saas-Balen and Saas-Almagell. The valley is located in southern Switzerland and it borders Italy. The area has a host of opportunities for activities such as winter sports,
bicycles, hiking and curling.
The largest and also most popular village in the Saas Valley is Saas-Fee. The village can be found directly at the foot of Switzerland's highest mountain and is a paradise for winter sports enthusiasts. The good snow conditions and weather make it possible for you to skiing or snowboarding.
Saas-Fee is a car-free village that has good hiking trails and connections to mountain elevators.
In the heart of Saastal you will find Saas-grund. The village is a hub of multiple hiking trails for hikers of all levels. In doing so, this is also the perfect place to take a high mountain hike.
In the small mountain lake young and old venture out for a refreshing swim. It is therefore worthwhile to make a visit to the lake.
The pearl of tranquility, also known as: Saas-Balen. Here time seems to have stood still. Nature lovers love to come here to rest. In addition, the village offers beautiful historic buildings such as the old baroque church.
Saas-Balen is located on the edge of the Saas Valley and is surrounded by impressive nature. The village does not have its own ski area.
At the Mattmark reservoir is the village of Saas-Almagell. The reservoir is a major attraction in the village. Around the dam and lake you can do excellent hiking or sport fishing. Mountain bikers can also explore the area well here.
Through a hiking trail you will discover an ancient trade route to Italy. The historic hiking trail starts at the Mattmark dam and runs along the lake up to Monte Moropas.