Winter sports
in Saas-Fee
Saas-Fee is part of the beautiful Saas Valley which consists of 4 villages: Saas-Almagell, Saas-Grund, Saas-Balen and Saas-Fee. The Saastal valley is enclosed by no fewer than 13 four-thousanders, which can be admired from various restaurants and vantage points.
The Saastal ski area has over 150 kilometers of slopes of which over 100 kilometers are located around the village of Saas-Fee. Due in part to its high altitude, Saas-Fee is a ski area with 360 days of guaranteed snow. The high season is from October to April, in the low season there are 20 kilometers of glacier slopes around Saas-Fee where skiing is possible.
There are several ski and snowboard schools in Saas-Fee. These schools offer education for all levels and from different ages.
Ski school Eskimos gives lessons from an age of 3 years. Swiss Ski School is the best known and largest ski school in Saas-Fee where you can go for various lessons and group activities. With ski lessons for all levels, you can stay in shape and improve skills while enjoying the beautiful scenery Saas-Fee has to offer. In addition to ski lessons, the ski schools also offer snowboard lessons. These are given from age 8 upwards.
On display of the Saastal card you get nice discounts on various lessons at different ski schools. The Saastal card is included with the booking of your accommodation in Saas-Fee.
In Saas-Fee there are several places where you can go to rent and buy ski gear. Sport 2000 is right in the center of Saas-Fee. When you book online you get 20% off your gear rental here. Intersport is also located in Saas-Fee, here the discount is 15% when booking online.
Alpinresorts is the largest rental network in Saas-Fee. Under Alpinresorts a number of establishments are affiliated: Cesar Sport Expres (Mischistrasse 16), Cesar Sport Alpin (Dorfstrasse 12), Egginer Sport (Gletscherstrasse 3) and Felix Sport (Gletscherstrasse 11). You can rent skis or a snowboard on the spot at the Alpinresorts branches, where they can help you directly with any adjustments to the shoes or skis. Of course, you can also purchase your latest ski outfit here. When you rent online you often get a discount. The items will be ready for you at your chosen store one day before 3:30 pm. Of course, it is then still possible to have the necessary adjustments made to the shoes or skis.
On the Saas-Fee slope map you can see the ski area of Saas-Fee and the different ski elevators and slopes.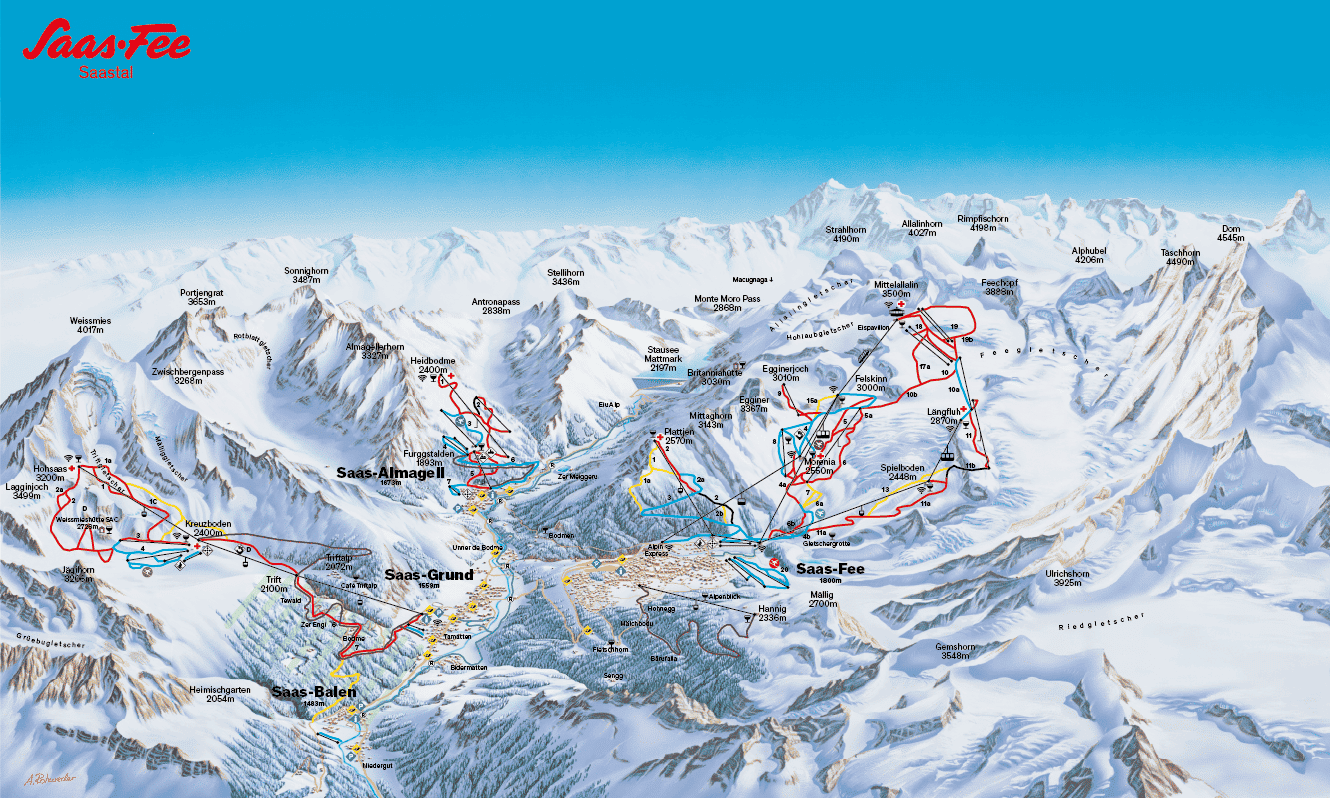 The village of Saas-Fee is located at an altitude of 1800 meters. This altitude provides lower temperatures than in other ski areas.
The altitude and landscape of Saas-Fee with many glaciers makes Saas-Fee a snow sure area. This ensures that skiing and snowboarding can be done year-round. Not for nothing do many professional winter sportsmen train in Saas-Fee during the summer months.
The ski area is located at different altitudes. The slopes in Saas-Fee are between 1800 and 3600 meters. With the Metro Alpin you reach the highest point of the ski area, this completely underground metro takes you to an altitude of 3456 meters. Where most subways are located far below sea level, this is the highest located subway in the world.
The total length of ski slopes in Saas-Fee is over 100 km. 20 km is blue (beginner ski area), 60 km is red (intermediate ski area) and 20 km is black (advanced ski area). The slopes in Saas-Fee are between 1800 and 3600 meters.
Saas-Fee is very child friendly. In the Junior Park, children can learn about winter sports. The children's land offers various profitable play activities for the smallest. These include a ski carousel, practice elevators and a mini downhill.
The Saastal Card is a pass you get from the accommodation in Saas-Fee. The Saastal Card offers many advantages:
In the low season free travel on the ski elevators in the Saas valley (Metro alpin excepted)

Free travel with the PostBus, only at arrival and departure you have to pay

Up to 25% discount on summer ski areas

Discounted parking in Saas-Fee

Up to 30% discount at various ski schools

Up to 20% discount at fitness, indoor pool in Saas-Fee

10% discount on private lessons at ski school Eskimos

Discounts on various activities such as cheese making on the Alpe Hanning and animal treasure hunt

The cost of the pass is only CHF 7.00 per person per night, CHF 3.50 for children aged 6 to 16 and free for children up to 6 years of age.
In addition to the Saastal Card, there is also a Magic Pass. The Magic Pass can be used for skiing during the period 29/10/2022 to 23/04/2023. This pass cannot be used for skiing in the summer. For an additional fee, access to more than 10 pools in this region is also free.