Whether you're looking for an easy or challenging trail to cycle, Saas-Fee is a paradise for everyday cyclists, mountain bikers and nowadays e-bikers alike! The 80 kilometers of perfectly marked trails take you past stunning mountains and end at beautiful glacial lakes. Perfect for cooling off after the bike ride!
If you love the outdoors and are looking for a breathtaking experience, look no further than hiking in Saas-Fee! This beautiful Swiss village is located in the heart of the Alps and offers some of the best hiking trails in the area.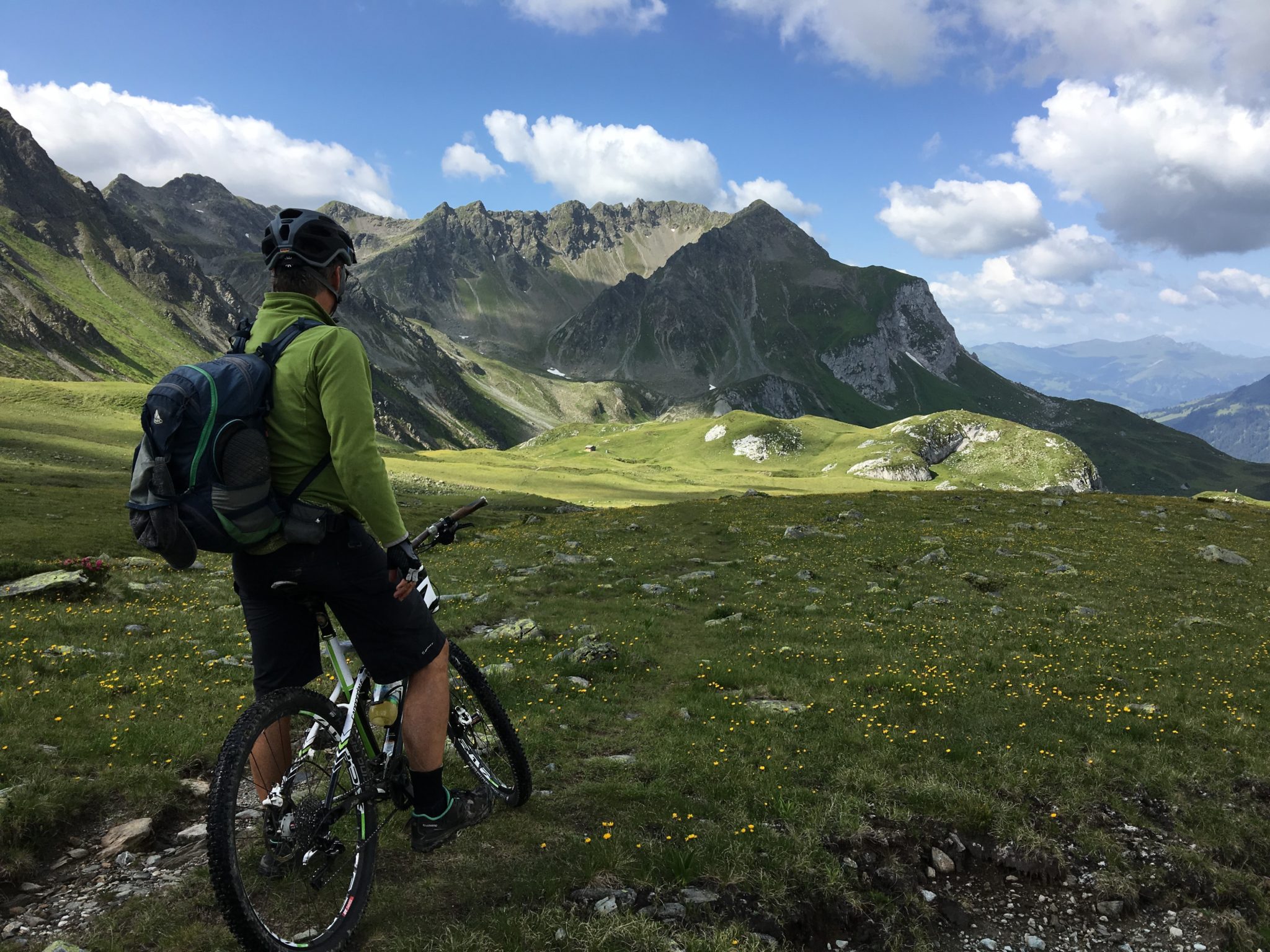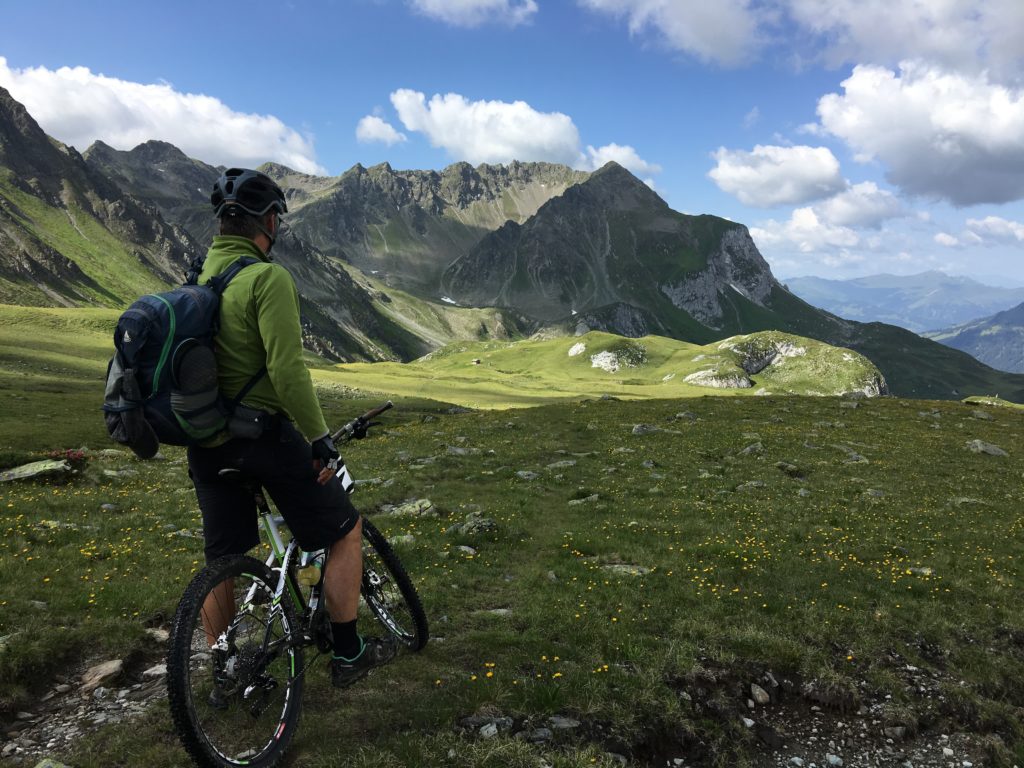 In Saas-Fee there are several places where you can rent bikes. The bike rental companies can be found in the center of Saas-Fee. 
Intersport Glacier
Dorfstrasse 52, 3906 Saas-Fee, Switzerland
SES SAAS FEE
Obere Dorfstrasse 36, 3906 Saas-Fee, Switzerland
Off Piste
Thistle, 3906 Saas-Fee, Switzerland
The Saas Valley is considered one of the best cycling destinations in Switzerland, aka the secret tip in the mountain biking scene! With 80 kilometers of bike trails passing through the beautiful hilly terrain of Saas-Fee, there is sure to be a bike trail for every level of cyclist in Saas-Fee. 
Family Loop Saas-Fee 1,778 m – 1,954 m 
Looking for a cycling route in Saas-Fee that is suitable for the whole family? Then the Family Loop is the ideal round trip. This ride takes you through the village of Saas-Fee in one hour. During this bike route, you will pass various hot spots such as the larch forest, many fire pits and a small lake. The bike trail is about 6.7 km and takes about one hour. 
Weissmies Bike Trail 2,400 m – 3,142 m 
This bike trail through Weissmieshütte is a demanding and beautiful bike trail through the Saas Valley. It is a challenging and difficult route that takes you high into the mountains. The red route of this trail offers impressive views of the high mountains of Saas-Fee. The bike route is about 5.7 km and takes about 30 minutes. 
Bike Circular Trail Mattmark 2,199 m – 2,248
The Circular Trail Mattmark starts at the Mattmark restaurant located at the dam. This bike trail is centered on the reservoir and takes you through a pedestrian tunnel. The narrow paths and different streams will make you enjoy a peaceful nature that is surrounded by several small water streams. The bike route is about 7.9 km and takes about one hour. 
To transport your bike to different places, it is sometimes necessary to use the cable car or the PostBus. The costs for this are listed below.  We recommend purchasing a Velo Tageskarte from the PostBus for longer distances. 
Bicycle transport

Adults

Children between the ages of 6 and 16

Cable car

per ride and bike: CHF 5,-

day ticket: CHF 40,-

per ride and bike: CHF 5,-

day ticket: CHF 30,-

PostBus

per trip: CHF 7,-

dagticket: CHF 14,-

per trip: CHF 7,-

dagticket: CHF 14,-
Nowadays, many E-bikes can also be found in Saas-Fee. There are several charging stations available for these E-bikes. Here you can charge the battery of your E-bike. Don't forget to bring your own charger and adapter. See below the charging points located in Saas-Fee.
Waldhüs Bodmen
Mountain restaurant
Gletschergrotte
WellnessHostel4000 / Aqua Allalin
Restaurant da Rasso
Hotel Allalin / Restaurant
Walliserkanne

E-Bike-Tour Gletscher See Wini 1.486 m – 2.862 m
A great route for e-bikers is the E-Bike-Tour Gletscher See Wini. This tour suitable for E-bikes starts at the village center of Saas-Balen and takes you along the Alpine Road to the alpine meadows of Grundbiele and the bridge of the Grüebe-Alp, among others. Explore the larch forest and alpine plains all the way to the glaciers with this E-Bike Tour. 
Staying overnight in Saas-Fee
After a wonderful bike ride, it is time to relax. A good stay and overnight stay should not be missing here. A luxury chateau provides relaxation after a long day of activities. Are you still looking for accommodation in Saas-Fee? Check out our luxury chateau in Saas-Fee. 
Luxury chateau in Saas-Fee
The beautiful chateau is located less than 400 meters from the center of Saas-Fee and offers several amenities that will make your stay in Saas-Fee Switzerland complete. For example, the luxury chateau has various wellness facilities such as a sauna and swimming pool and in the evening you can enjoy a beautiful balcony overlooking Saas-Fee. Book your luxury chateau and make your vacation in the Swiss Alps unforgettable!